PBGC Hires Proxy Personnel To Provide Temporary Staffing Solutions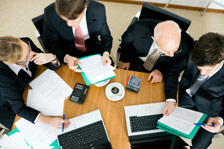 PBGC hires Proxy Personnel to provide legal staff.
The Pension Benefit Guarantee Corporation (PBGC) hires Proxy Personnel to provide staff augmentation in the form of legal assistants for the Office of Chief Counsel. Legal Proxy, a division of Proxy Personnel, will manage the recruiting, staffing, and management of this contract.
The Office of the Chief Counsel (OCC) has responsibility for the majority of the legal activities of the Pension Benefit Guaranty Corporation (PBGC), including participation in and directing all litigation and liens involving the PBGC, rendering legal advice and opinions under Title IV of the Employee Retirement Income Security Act of 1974, as amended (ERISA); processing a wide variety of cases arising under ERISA, and providing legal advice and services needed by the PBGC.
Group 1 of the Office of the Chief Counsel requires temporary administrative (legal) services to assist Assistant Chief Counsels (ACCs) and Attorneys in the  group as OCC goes through the process of hiring permanent federal employees.