Department of Justice Hires Proxy Personnel to Provide Attorney Staffing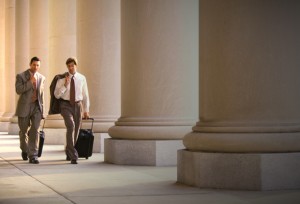 DOJ hires Proxy Personnel to provide attorney staff.
Proxy Personnel was awarded a contract to provide attorney staffing services to the Department of Justice's Office of the General Counsel. The Office of General Counsel (OGC) provides legal assistance and advice to the Office of Justice Programs' (OJP) bureaus and offices on all legal issues arising from OJP's role in providing federal leadership in developing the nation's capacity to prevent and control crime, improve the criminal and juvenile justice systems, increase knowledge about crime and related issues, and assist crime victims. Legal Proxy, a division of Proxy Personnel, will oversee the recruiting, staffing, and management of this contract.
Enacted in 1976, the Public Safety Officers' Benefits (PSOB) Program is a partnership effort of the U.S. Department of Justice; local, state, and federal public safety agencies; and national organizations to provide benefits to public safety officers who have been totally and permanently disabled in the line of duty and to survivors of those public safety officers who have died in the line of duty. The Hometown Heroes Survivors' Benefits Act, enacted on December 15, 2003, expanded the circumstances under which public safety officer deaths resulting from heart attacks and strokes may be covered by the PSOB Program.
The OJP currently has approximately 200 PSOB claims that require review and disposition. New claims are being received continuously. Our staff will conduct a legal review and analysis of the PSOB claims, and submit to the OJP supervising attorney written reports, or analyses of claims, as necessary. The staff may be given other assignments related to legal work on matters related to the PSOB Act as necessary and appropriate.