Department of Justice awards Proxy Personnel HR Services Contract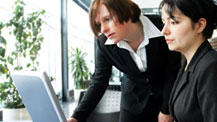 DOJ, Tax Division has award a contract to Proxy Personnel to provide Human Resource Assistant services.
Proxy Personnel was awarded a contract by the Department of Justice, Tax Division to provide the Office of Management and Administration, Human Resources Office (OMA) two to three Human Resource Assistants to provide technical support to a staff of Human Resources Specialists and the approximately 500 Tax Division employees.
The primary function of OMA is to provide administrative support to our attorney workforce in the areas of personnel, management and planning, procurement, budget, finance, travel, records management, and information technology. The Tax Division serves as a general purpose law firm for its principal client, the Internal Revenue Service (IRS). On behalf of IRS, our attorneys handle virtually all civil and criminal litigation arising under the internal revenue laws except for those cases which are docketed in the U.S. Tax Court. The Division consists of approximately 355 lawyers, 90 legal support personnel and 50 administrative support personnel.
Proxy Personnel is pleased that the Department of Justice has retained our services and look forward to continuing our great business relationship.